Dr. Swami & Bone Daddy's Top Shelf Margarita Mix Rides to the Top
Patterson's Beverage Journal, May 2006
By Deborah Parker Wong, Photos by Sylvie Gil
Dr. Swami and Bone Daddy's is riding high in a category that lacked distinction until the arrival of their gourmet cocktail mixers that are out-tasting and outselling everything within their Northern California distribution. The Los Gatos, CA-based company was founded in 2001 by Dwight Perkins, a former sports merchandise retailer with first-hand experience in fueling the passion of brand loyal fans. Armed with a recipe for a Bloody Mary mix that inspired many tailgate parties, Perkins developed a winning all-natural product that caught the attention of Southern Wine & Spirits' Stephen Burrows who in turn put Dr. Swami & Bone Daddy's on the map.
Perkins, who is company President and the brand's "Bone Daddy," next identified a neglected niche in the margarita mix category: A shelf-stable gourmet product with an authentic, fresh taste that is free of the harsh chemical burn that defines the majority of generic mixers. He speaks to taste as the key dif­ferentiator for his products and has established a solid foothold with retail accounts. He is rapidly growing the company's on premise business with taste-offs that pit Dr. Swami & Bone Daddy's mixers against the competition. The company's mixers are tailored for both the on-premise and retail markets and in­clude the signature Top Shelf Margarita Mix, Bloody Mary, Sweet and Sour, Pina Colada (sold only to on-premise accounts) and a unique garnish of marinated green beans that pack a punch. All showcase the purity and character of ultra premium spirits through the use of gourmet ingredients like tree-ripened juices and granulated sugar which impart better body and a cleaner taste to their Margarita mix. The addition of non-alco­holic Triple Sec further increases complexity and improves the margin for operators who choose not to add their own.
Lifestyle Brand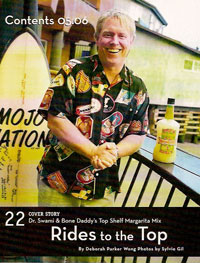 Markedly better taste and astute branding have worked like a charm and propelled Dr. Swami & Bone Daddy's Top Shelf Mar­garita Mix straight to the top in retail and chain store accounts. One of California's largest beverage chains sites "a difference you can taste and a brand attitude" that consumers strongly identify with for Dr. Swami & Bone Daddy's number one spot in the gourmet mixer category. The preparation and consumption of popular cocktails at home is driving sales across several cat­egories including ultra premium spirits and glassware but the single largest rationale for purchasing a better tasting, higher­ priced mixer is that it improves the overall quality of cocktails. Perkins' observes, "There are 600 cocktails made with mar­garita mix and by improving the quality of that one ingredient you have improved on 600 cocktails."
Riding the Ultra Premium Wave
A very difference force is at work in the on premise scenario where ultra pre­mium spirits were once a trend and are now a firmly established preference. Ac­cording to the Distilled Spirits Council sales of high-end premium brands have grown by a whopping 51% in the last two years and U.S. tequila sales have seen a 20.6 percent increase in volume for the same period. Perkins' company was ide­ally positioned with differentiated prod­ucts that caught the 'ultra premium' wave and established their market position.
Taste, Value and Flexibility
With on premise accounts that range from glitzy destination restaurants like Bouchon in Las Vegas to a neighborhood burrito shop that serves wine Margaritas, Dr. Swami & Bone Daddy's proposition of taste and value rings true.
For specialty accounts like Cascal, a Spanish and Latin tapas restaurant in Mountain View, CA, where a menu of small plates focuses on the flavors of Spain and a variety of cuisines from the New World, Owner Don Durante does close to half of his bar business in cocktails – primarily standards like Margaritas, mojitos and caipirinhas. Durante has an excellent collection of ultra premium tequilas, rums and vodkas and Dr. Swami & Bone Daddy's Top Shelf Margarita Mix is on his bar gun to better showcase those products.
"Cost is incidental; there's a noticeable difference in their mixer, it tastes much fresher and has none of the medicinal or chemical flavors that are so offensive."
Turn up the Volume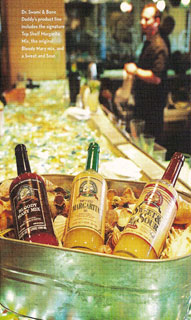 At the other end of the spectrum, the company's products excel for volume ac­counts like Arc Restaurant Group which operates seven full service restaurants, two lounge/clubs, 13 food court outlets, two catering businesses and room serv­ice operations at New York, New York in Las Vegas alone. Arc's Las Vegas Food and Beverage Director Randall Warder manages an operation that runs the gamut in terms of styles and price points from fast food to fine dining and rings in excess of 6,000 checks every day.
Warder learned the art of tequila while opening high-end resorts in Cabo San Lucas and was challenged by Arc's inven­tory and volume demands when sourcing a house mixer. He conducted a grand tasting in which he compared all comers to his personal recipe and, not surpris­ingly, Dr. Swami & Bone Daddy's Top Shelf Margarita Mix came out on top. "While the vodka martini is still our most popular call drink, this is a town where the majority of 'fun cups' contain a Mar­garita," observes Warder whose accounts serving spirits are no exception.
He points to Gonzales y Gonzales the company's flagship Mexican restaurant located at New York, New York which sells more than 2,000 standard 16-ounce Margaritas a week and serves hundreds of 24- and 48-ounce gargantuan novelty, drinks that can contain up to eight ounces of tequila. With a ratio of two parts tequila to four parts mixer, that's an ocean of product.
When You're Numero Uno, Two Heads Are Better Than One
It's nice to be number one in your category and that's where Dwight Perkins and CEO Ken Huesby – the duo behind Big Wave Beverage Company – find themselves. While their expanding distribu­tion area includes CA, NV AR, TX, PA and NY' within the Northern California chains almost 36 percent of the off premise market share for 1.0L Margarita mix belongs to their gourmet Dr. Swami & Bone Daddy's brand. IRI data for 2005 provides a snapshot of the company's performance and they've hit a sweet spot which they're well positioned to maintain. Last year the company introduced 1.75 L packaging for its Top Shelf Margarita Mix with an impressive performance by one of the region's largest chains which moved $35,000 worth of product in its first 90 days.
Smaller is Better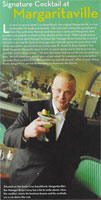 David and Goliath is one way to look at the success of Big Wave's products and the growing appeal of the independent brand. In a sea of sameness, Perkins and Huesby market products with a distinctly better taste. Huesby who stepped in as "Dr. Swami" in 2004 is brand strategist and brings a corporate background and business acumen to the company's cul­ture. "Staying flexible helps the company meets the needs of our retail partners," offers Huesby. "Our mixers have become the products of choice for many cross promotions."
Making Waves
While consumer tastes continue to trend toward specialty gourmet foods that are tastier, healthier and more inter­esting, Huesby sees retailers who are missing the boat by offering multiple fac­ing of brands that are essentially the same generic product. "This is a 'lost op­portunity' scenario that fails to create up­ward movement in the category and does not capture the sales of the discriminating buyer." At retail, the Dr. Swami & Bone Daddy brand is keenly positioned; it's com­petitively priced to keep gourmet quality mixers within the reach of cost-conscious consumers and at the same time, it ap­peals to the specialty food consumer who buys based on taste and quality. The com­pany's hip, lifestyle branding and flexible packaging contributed significantly to their leading market position and have further positioned the brand for growth.